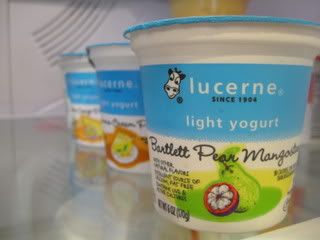 Cleaning the refrigerator used to be a tedious job. Uneaten leftovers and wasted produce were a big problem. Now that I cook almost every meal at home, using up all of our groceries and eating up all the leftovers, my fridge is so easy to clean! If you never looked at the shelf surfaces, you'd think it was a nice tidy fridge. But
I
know there is a sticky layer of dried on food leaks and with that, tons of germs. I forgot to take a
before
picture of the scum but you know what I mean.
We bought this fridge three years ago and have really liked it. I never had a complaint until today...

That gunk you see is not quite get-able. The plastic frame of this glass shelf is one solid piece. I don't see how anyone can get the glass out to clean the nasty bacteria hanging out in there. So, armed with a paper towel, I kept jiggling, wiping, squeezing and obsessing over this trapped dirt and eventually coaxed some of it out.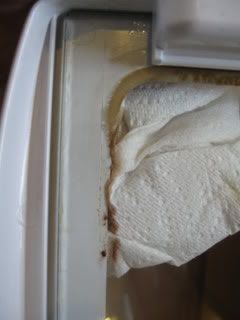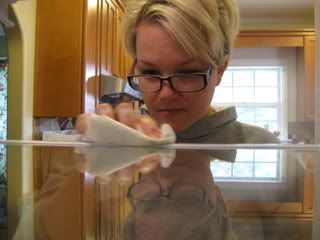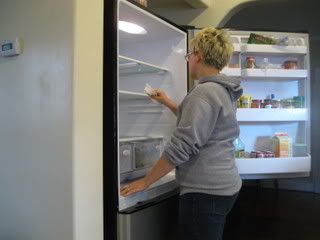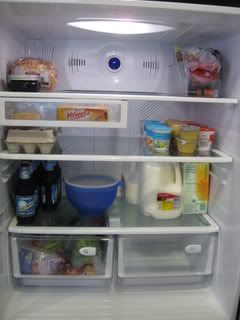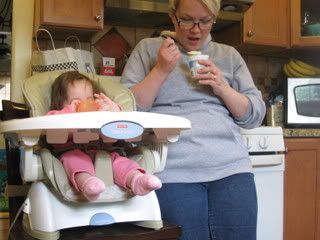 Maxine sat in her high chair playing with Tupperware while I worked. I finished and had a snack. She played with those little containers for a long time! Her real toys are getting dull, I suppose. And now I have a really pretty fridge.