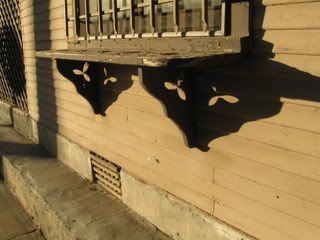 Today I was inspired by
this blog
, a photographic contender in
The Craftsman Challenge
, to take a walk in my 'hood and try to photograph the Craftsman style houses, or what I
think
are such. I found it difficult to get a picture without phone lines, cars or trash barrels ruining the image. A lot of homes around here are dilapidated or at least need a good paint job. That doesn't mean they aren't "Craftsmans", it just means the owners are unable to take care of them or they don't realize how great their homes really are on the outside.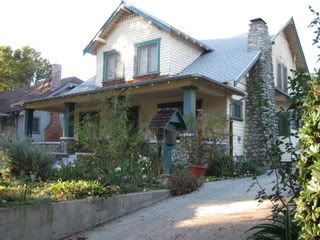 This house is on my street. We pass by it a lot on our walks. It looks very homey and pleasant, especially at night.
This house is on Los Robles, a fairly busy street loaded with pretty Victorian and Craftsman style houses. I'm not fond of the color choices here but it's still quite charming. There is no way to get a clear picture of it.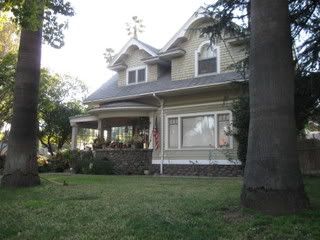 Now, to my untrained eye, this is a Craftsman but the more I look at it, the more I doubt my guess is correct. That circular area on the porch there is throwing me off. It, too, is on Los Robles. I like it and I bet the inside is
much
more interesting.
Actually, my favorite photo from today is the one at the top. I just happened to walk right by this ugly, forgotten, maybe-empty house and these, I don't know, brackets caught my eye. It is details like this that can inspire a whole new life for a dumpy old house in need of major TLC. Like a jumping-off point.