Jose liked my blog about houses in our neighborhood (yesterday) but he said he would've liked to see more pictures. So I mentioned that I snapped some shots of the ugliest house I've seen in a long time and on his suggestion, I'm going to show you what I'm talking about. I did not get a picture of the front of it. Just as I started to snap away, a family parked in front of the house and I left.
I cannot tell if this is all an add-on or if they tore down the original digs and built a new one from the ground up. Either way, it is grotesque. Weird shape, ugly color, strange jutting-out window on the second floor, no style or sense of direction. Sucks to be in the same vicinity as this structure. I think it's vacant-- there is a bunch of crap outside, like a toilet and old toys. Just my guess. If the owner is reading this, what the heck were you thinking? I feel sorry for the neighbors and their property values.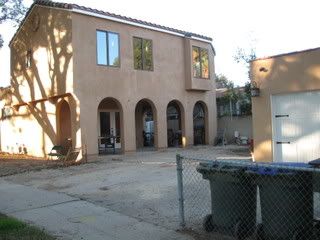 Okay, on a lighter note, here are Maxine and Raquel playing in the yard. We have been loving this warm weather and spending a lot of time out in it.